Mobile Loading Platform – MLP Series
The MLP Series Mobile Loading Platform is accessory equipment helping to moving goods into the carriages or containers directly. It adopts electricity power equipment (e.g. heavy-duty cylinder with safety velocity fuse and pressure compensate flow control valve, and relief valve) to adjust the lifting height to the required truck height. This ramp can be used inside or outside of warehouse and easy to be operated by one worker. Moreover, it is ideal for loading containers with pallet truck or stacker.
Description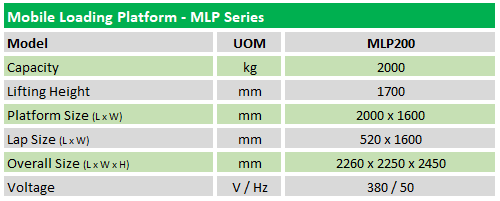 High Performance Hand Pallet Truck 3000Kg
WORRY-FREE AFTER SALES SERVICES
Geolift's wealth of service competence ensures that you can enjoy safe and reliable transport and warehouse processes.
Let us assist you!  One-stop solution accessories, after-sales service-related issues.