Super Narrow Pallet Truck 2500kg – AC25SN
Ergonomic cushioned handle with 3 function trigger for raise, lower and neutral operation.
Optimised hydraulic system design for lifting heavy loads with minimum effort.
Totally sealed pump unit with galvanized housing (impervious against air, water or dirt) incorporating an overload release valve.
Solid & robust one – piece "C" section forks for greater strength and durability.
Fully adjustable push rods to aid level running.
Fork tip roller system for smooth transition in and out of pallets.
The chromed bearing bushes and joints ensure quiet running properties and particularly long service life.
Customized configurations and designs can be considered on request.
Conforms to EN 1757-2 Standards.
Description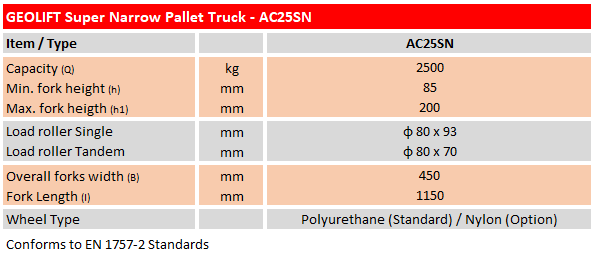 Super Narrow Pallet Truck 2500kg -AC25SN
WORRY-FREE AFTER SALES SERVICES
Geolift's wealth of service competence ensures that you can enjoy safe and reliable transport and warehouse processes.
Let us assist you!  One-stop solution accessories, after-sales service-related issues.