Standard Hand Pallet Truck 2500kg – AC25
Top class range of pallet trucks with excellent designs.
Professional and ideal storage aid for all variety of manual transport tasks over short distance in stores and warehouse as well as factory plants.
Reliable, sturdy, torsion – resistant due to its extremely strong high quality steel profile Germany standard WAGNER painting system ensures best powder coating and painting quality.
All pivots points are greased ensures excellent maneuverability with effortless steering. The chromed bearing bushes and joints ensure quiet running properties and particularly long service life.
Description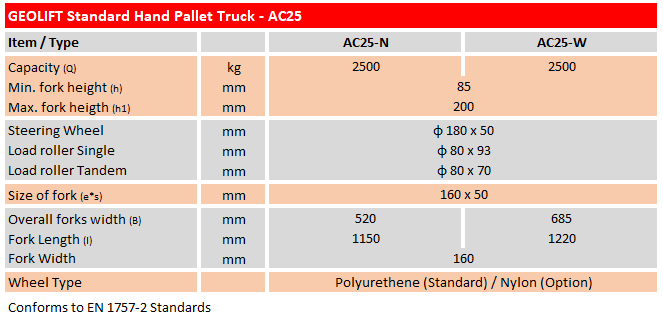 Standard Hand Pallet Truck 2500kg
WORRY-FREE AFTER SALES SERVICES
Geolift's wealth of service competence ensures that you can enjoy safe and reliable transport and warehouse processes.
Let us assist you!  One-stop solution accessories, after-sales service-related issues.