Electric Drive Pallet Truck – CBD20J-B Series
This is exceptional buying. New 2000kg Electric Drive Pallet Truck. Manual pump, electric drive. Why pull a manual pallet truck around all day when you can now buy an electric drive unit for just a little more?
Description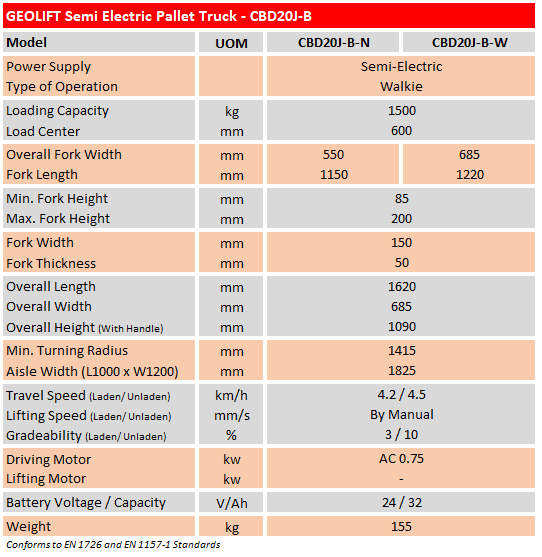 Performance of CBD20J-B Series Electric Drive Pallet Truck
The pallet truck is simple and dexterous, with small turning radius and small weight It is suitable for ultra-narrow aisle operation.
The truck has compact and reliable structure. The oil pipeline and line are wrapped in the truck body which is safe and beautiful and convenient for user maintenance.
The truck adopts integrated handle design integrating key switch and electric meter which is simple and comfortable for operation.
The front baffle and battery is easy to disassemble and replace.
Standard configuration of emergency stop switch and emergency reverse device ensure truck safety.
The truck is assembled with power off braking function. The truck is braked as soon as the handle is loosened or pressed to the bottom.
Electromagnetic braking and motor braking are used to ensure the safety of driving.
Standard configuration of built-in charger is easy to charge.
WORRY-FREE AFTER SALES SERVICES
Geolift's wealth of service competence ensures that you can enjoy safe and reliable transport and warehouse processes.
Let us assist you!  One-stop solution accessories, after-sales service-related issues.